PIPELINE

TECHNOLOGY
Morphiex is developing phosphorodiamidate morpholino oligomers (PMOs) for the treatment of cancer. PMOs are translational blocking molecules that exhibit excellent toxicity and stability profiles.
MBT-001 – CD47 Inhibitor
Our lead candidate, MBT-001, was developed at the National Cancer Institute (NCI) at the National Institutes of Health (NIH). MBT-001 is exclusively licensed to Morphiex for the treatment of cancer as a monotherapy or in combination with other modalities such as chemotherapy, immune checkpoint inhibitors, CAR-T and many others. In addition, Morphiex has entered into a cooperative research and development agreement (CRADA) with the NIH/NCI to accelerate the development of MBT-001. It is the only dual functioning CD47 immunotherapy that blocks SIRPa "don't eat me" and thrombospondin-1 (TSP-1).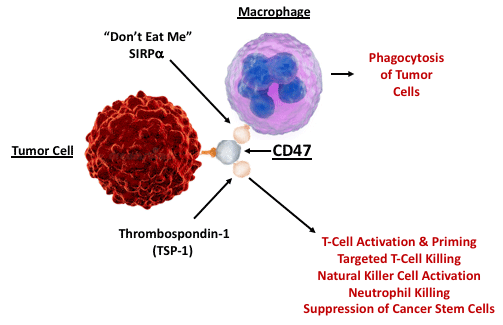 Other CD47 drugs in clinical trials only target the "don't eat me" signal on CD47. MBT-001 targets both CD47 pathways, including TSP-1, allowing us to directly elicit macrophages as well as T Cells, Natural Killer cells and neutrophils to destroy tumor cells. MBT-001 also suppresses cancer stem cells through the TSP-1 pathway. In addition, MTB-001 avoids hematoxicity commonly associated with targeting CD47 with antibodies through the PMO translational blocking mechanisms. We believe our multifaceted approach is the only drug candidate that exploits the full potential of CD47 while avoiding mechanistic toxicity. Morphiex expects MBT-001 to enter the clinic in Q1 of 2019 for hematological malignancies with solid tumors to follow shortly thereafter.
Selected Publications with MBT-001 and the science behind targeting both "Don't eat me" and thrombospondin-1
Antisense targeting of CD47 enhances human cytotoxic T-cell activity and increases survival of mice bearing B16 melanoma when combined with anti-CTLA4 and tumor irradiation. Schwartz AL, Nath PR, Allgauer M, Lessey-Morillon EC, Sipes JM, Ridnour LA, Morillon Ii YM, Yu Z, Restifo NP, Roberts DD. Cancer Immunology & Immunotherapy. 2019
Combination of anthracyclines and anti-CD47 therapy inhibit invasive breast cancer growth while preventing cardiac toxicity by regulation of autophagy. Feliz-Mosquea YR, Christensen AA, Wilson AS, Westwood B, Varagic J, Meléndez GC, Schwartz AL, Chen QR, Mathews Griner L, Guha R, Thomas CJ, Ferrer M, Merino MJ, Cook KL, Roberts DD, Soto-Pantoja DR. Breast Cancer Research and Treatment. 2018
CTLA4 and CD47 combinational therapy to extend survival in melanoma. Anthony L. Schwartz, Pulak Nath, Elizabeth Lessey-Morillon, Lisa Ridnour, Michael Allgaeuer, David Roberts. American Society of Clinical Oncology. 2017
tor Globally Regulates Metabolic Pathways That Control Resistance to Ionizing Radiation. Miller TW, Soto-Pantoja DR, Schwartz AL, Sipes JM, DeGraff WG, Ridnour LA, Wink DA, Roberts DD J Biol Chem. 2015 (opens in a new tab)">CD47 Receptor Globally Regulates Metabolic Pathways That Control Resistance to Ionizing Radiation.
Miller TW, Soto-Pantoja DR, Schwartz AL, Sipes JM, DeGraff WG, Ridnour LA, Wink DA, Roberts DD J Biol Chem. 2015
CD47 in the tumor microenvironment limits cooperation between antitumor T-cell immunity and radiotherapy.
Soto-Pantoja DR, Terabe M, Ghosh A, Ridnour LA, DeGraff WG, Wink DA, Berzofsky JA, Roberts DD. Cancer Res. 2014
Blockade of CD47 increases survival of mice exposed to lethal total body irradiation.
Soto-Pantoja DR, Ridnour LA, Wink DA, Roberts DD. Sci Rep. 2013
Therapeutic Targeting of CD47 to Modulate Tissue Responses to Ischemia and Radiation.
Soto-Pantoja DR1, Isenberg JS, Roberts DD. J Genet Syndr Gene Ther. 2011
Radioprotection in normal tissue and delayed tumor growth by blockade of CD47 signaling.
Maxhimer JB, Soto-Pantoja DR, Ridnour LA, Shih HB, Degraff WG, Tsokos M, Wink DA, Isenberg JS, Roberts DD.
Sci Transl Med. 2009
Thrombospondin-1 signaling through CD47 inhibits self-renewal by regulating c-Myc and other stem cell transcription factors. Kaur S, Soto-Pantoja DR, Stein EV, Liu C, Elkahloun AG, Pendrak ML, Nicolae A, Singh SP, Nie Z, Levens D, Isenberg JS, Roberts DD. Sci Rep. 2013